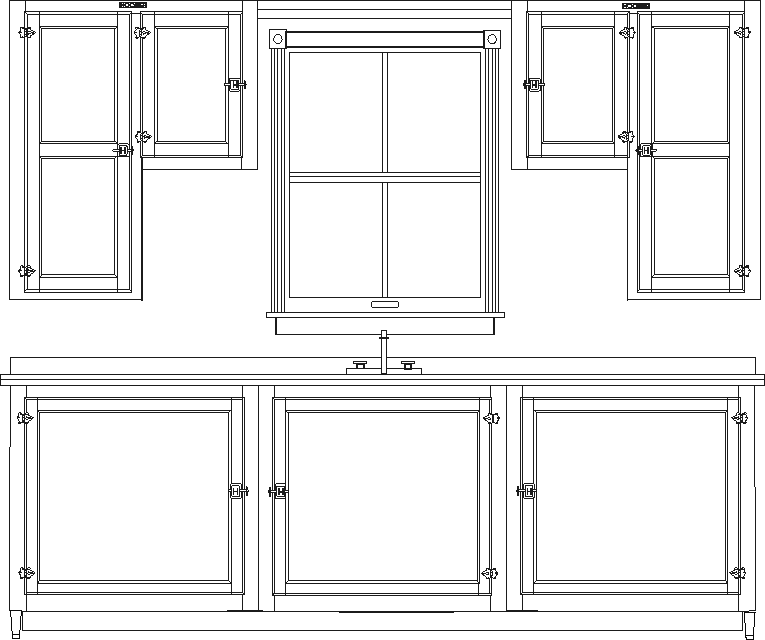 I've often wondered what it would be like to build a modern day "Hoosier Kitchen".  Not a true reproduction of early 1900's kitchen with bare walls, sink and Hoosier cabinet, but a usable modern kitchen built "Hoosier style".  The cabinets would feature authentic paneled oak construction, Hoosier "H" motif latches, Hoosier hinges, and any number of options found on Hoosier cabinets (see
optional features
).  Base cabinets could feature Hoosier legs on the corners.  Best of all, a space could be left for the Hoosier cabinet to
fit right in
!
I drew a quick sketch in hopes of receiving your comments.  Please
email me
with your opinions!  Is the world ready for a Hoosier style kitchen?  This simple drawing shows all doors.   Naturally drawers would be available and any number of custom options could be built.   Please let me know what you think.
Thanks for your help!  Kirk

PS  Several have asked about the legs.  The bottom of the cabinet has a toe space like most modern cabinets.  The legs are just for looks on the ends of the base cabinets.

NEW FROM THE DRAWING BOARD:  BUILT-IN HOOSIER CABINETS?